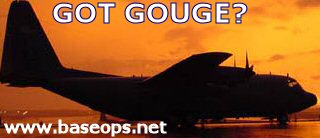 The following is a public accumulation of C130 Briefing Guides, Study Guides, Ops Limits and various errata.
ATTENTION: These are Unofficial documents
. None of this information is a substitute for official publications, regulations or USAF Tech Orders. Feel free to view each file or download them all; print and use. Many of these documents are solely specific to a particular C-130 model, e.g. C-130E, H3, etc. If you have any gouge of your own please
email
me and I will add it to the collection. Please submit your names with your gouge so that all crew dogs know who to thank.
---
MESSAGE FROM THE LRAFB C-130 SCHOOLHOUSE STAFF
All pilots attending C-130 requal (PRA or PRB), and the Pilot Checkout Course, there is a test on the pre-course CBTs and it is administered on the first or second day of class. Failure of the test could result in disenrollment from the course. Information on how to obtain a copy of the pre-course material can be found at the ETCA website. A link to ETCA can be found by searching the Air Force Portal.
---
---
C-130 Study Guides Archive
Download text files in self-extracting WinZip files (broken into parts for size):
WINZIP is not required, the zip files are .exe files and will self-extract by themselves!
Together, these 2 zip files contain ALL the C130 Gouge in the tables below that are colored-blue.
| C130Gouge1(352K) | C130Gouge2(268K) | – new files updated 13Jun00.
New EPE Study Guide Version 8 NOT contained in C130Gouge2 file – you must download it separately from top of page.
NOTE 1: MCR 55-130 has been replaced by AFI 11-2C130V3 We will maintain the old 55-130 gouge here for the meantime until better gouge is submitted. However, we have compiled some good stuff on this new regulation.
NOTE 2: Items designated "insert" are pre-formatted and sized to fit in a check-list page insert.
NOTE 3: Internet Explorer users will be able to 'preview' each document file below by clicking on it.