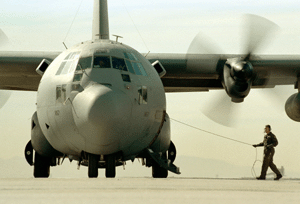 This page made up of inputs from recent graduates and excerpts of the Baseops Discussion Forums.
Who goes to Dobbins for C-130 Training? You have a better shot if you're a reservist that fly's H2's or H3's. I flew E models and went (pure luck). Dobbins is the best deal out there concerning any AETC school in the country, great per-diem, great location and great instructors. There were only 2 other studs in my class, but the class size usually averages 6. Dobbins is much more streamlined than Little rock with their syllabus, that's why you only work 3 half days a week. As of March 2007, changes to the curriculum include doing all of phase 2 and 3 as co-pilot.
The first day you will take care of in processing for a few hours and then you will jump right into the curriculum. You will start with an overview of the C-130 aircraft and the overall mission followed by systems through a fire hose. The first two weeks are very systems intensive but they do a great job teaching it. When you in process you will be issued two CDs for the computer based training. The CDs include systems lessons that supplement the classes and the Dash-1 reading assignments. The first couple of months are academics at Lockheed. They will issue you a laptop so you can do your CBT's at home. You do have some classroom instruction, but mostly CBT's. In addition, you will have two CFT (Cockpit Familiarization Trainer) sessions in the Flight Training Device (a sim that doesn't move or have visual) to introduce you to the cockpit layout, checklist usage, and procedures. They give you plenty of time to run through checklists, so you can learn were all the switches are. Of course don't expect to be a systems expert after these two weeks. They just want to ensure you have a basic foundation prior to moving to the simulator. That is where your systems knowledge will be taken to the next level as you develop a good working knowledge from hands on experience. In addition to systems academics, you will also have life support, aircraft performance, instrument refresher, and CRM courses. There are four systems tests, an IFR refresher exam, and an open book marshaling test. In addition there is a systems end of course exam that will be taken toward the end of the simulator block of training prior to reaching the flight line.
Dobbins is structured differently from Little Rock in that you complete all Phase 1, 2 and 3 Academics and Sims with Lockheed, before continuing to the flight line. Expect to work approx 3-4 days a week in the academic phase. After academics you will have a total of 19 Phase 1 simulator sessions which will last about a month. Phase 1 is "pro phase" (landings, instrument work, basic navigation emergencies), you will learn systems first and practice emergencies in the Flight Training Device. After pro phase you'll do phase 2 and 3 which consist of SKE formation, NVG, Airland, Low level as CO-PILOT. You will work with the navigator in this phase and focus on the tactical mission and your duties.
The simulator sessions are broken down into FTD (Flight Training Device) and WSTs (Weapon System Trainers). The FTDs are designed to enhance your systems knowledge, checklist usage and discipline, and emergency procedure knowledge. These sessions are done with no motion or visual. The FTD sessions will start with a two-hour pre-brief where the instructor will outline the systems you will cover. The courseware that is issued to you will give a 12-15-page mission profile for each FTD. You will know in advance what Eps to study up on and prepare for. Of course as time goes on the FTDs will become more comprehensive in nature as you prepare for you EPE (Emergency Procedures Evaluation).
---
Weapons System Trainers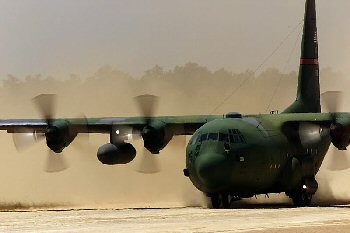 The WSTs include a two-hour pre-brief before each session as well. The WSTs are dedicated to actually flying the C-130. You will fly different profiles from Dobbins, Little Rock, and Colorado Springs just to see some different environments and approaches. For most of the WSTs it will be just a pilot and copilot although sometimes an engineer will be available to sit in. A student navigator is scheduled during two of the simulators so everyone gets exposure to the crew coordination. Once again the courseware provides a complete outline of the mission so you will know exactly where and what to prepare for. You will alternate between FTD missions and WST missions to provide good continuity between systems knowledge and actual flying skills.
After you complete the WSTs, FTDs, and the end of course exam you will have two checkrides. The first is the EPE which is a Form 8 (official) checkride with an instructor pilot from the 700AS. The EPE will be like an FTD session. You start with the Before Starting Engine checklist and go all the way through the Engine Shutdown checklist. You can expect multiple start malfunctions, malfunctions on the ground, and a few in flight. In fact, it took over an hour to just get taxi to the runway for takeoff. They will give you an EP as a crew and expect you take proper action in coordination with the flight engineer. In addition, they will stop the simulator and ask questions about the procedure including information contained in the Dash-1 notes, warnings, and cautions. A big emphasis item is 3 engine go's, make sure you know each step from the dash-1 and talk through them as you are performing them in the plane and make sure you know told definition and weather mins. The other checkride is a WST mission where once again an instructor pilot from the 700AS is the evaluator. This is a non Form 8 checkride, but rather a big picture checkride. They just want to verify that you are comfortable flying the simulator and working the checklists prior to reaching the flight line.
---
Tactical Formation Phase 2 and 3
After completing the "pro" phase, you will continue with tactical / formation academics. You will start with an introduction to the tactical checklists, low level navigation, fundamentals of airdrop and emergencies, and max effort performance (assaults). In addition, you will have a class on NVGs. There will be two academic tests before starting the WSTs. There are three WSTs that are dedicated to single ship low level navigation. You will brief two hours prior with your instructor once again. The first hour is spent talking about the mission and the associated GK. The next hour is spent with the navigator while we conduct a route study and mission briefing. At the end of each low level, the navigator will leave and we will practice max effort takeoffs and assault landings.
Next you will have two days of academics and two tests on visual formation procedures and SKE (station keeping equipment). Then you will return to the simulator for four WST missions. These four sessions will be conducted very similar to the previous three. The only difference is that you will be flying on the wing of another C-130 both visually and with reference to SKE. Once again you will practice max effort and assault procedures after you fly the route as "Pilot Monitoring". As a co-pilot you will be responsible for "Pilot Monitoring" duties, which includes backing up the Navigator and ensuring the AC is doing everything per procedures. A big emphasis as Co-pilot is good CRM with the Crew, operating the Radios and SKE equipment, and backing up the Nav with navigational duties and knowing all the Airdrop procedures.
After phase 3 you'll hit the flight line and pacing will pick up.
---
The Flight Line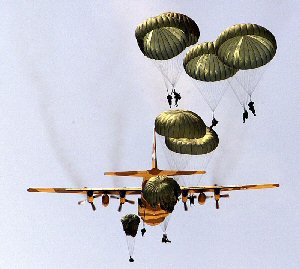 Next you will hit the flight line for the "pro" phase of flying. Once you hit the flightline, expect to fly 3 days a week and you'll have ground training the days you aren't flying. Your first flight in the plane will be in the right seat for proficiency landings then you'll move to the left seat and learn how to land the plane and run the crew. There are a total of four ground training sessions (2 hours each) to accomplish with an instructor. The 700AS provides a ground training study guide and flight training study guide which is very helpful for that phase. They hand those out when you first check in at the flight line however, if your SRO could request the handouts maybe a week earlier it will help you prepare even more. Then you will have four flights, including one night flight, and a checkride (Form 8). These flights consist of multiple instrument approaches, traffic pattern operations, and three-engine work for the ACs. The typical profile will be conducted at Chattanooga, TN but other airports you might see include Augusta, GA, Macon / Warner Robbins AFB, and perhaps Montgomery, AL / Maxwell AFB. Be ready for anyone of those places but most checkrides are conducted at Chattanooga. You can expect two precision, two non-precisions with a circle to land, visual patterns with flaps 50% and 100% landings, and a go-around. It is pretty straightforward overall with no surprises. The simulator really prepares you well for the flight line. Just don't forget to check local NOTAMS by calling the FSS who governs the airport (Nashville FSS for Chattanooga) since you will be using mostly civilian fields in training
After your check ride, you'll transition into phase 2 and 3. This phase consists of mainly night NVG and Airland operations as a co-pilot (just like at the sim). This phase will go fast. This time you will have 5-6 flights and a checkride to follow. You will have about six (2 hour) ground-training sessions included since there is so much information to review. It will be very helpful if you get the ground training and flight-training guide prior to returning to the flight line. The topics include Low level navigation, Visual Formation, Airland Operations, Airdrop procedures, SKE, Have Quick / Secure Voice and a general review prior to the EPE. You will have 3-4 night flights to get experience with night navigation and NVGs. You can expect about a 10-hour day on the flight line when you fly. You will show four hours prior to takeoff, fly a 3.5 hour mission, debrief with maintenance, as a formation, and then with your instructor. You will typically fly a SKE route from Dobbins to the Preston DZ for a drop, followed by a recovery at Augusta Bush Airport. Then you will depart on a Vis route to the Northwest with another drop at Preston DZ. Afterwards, you may do one more Vis route or return to Dobbins via a SKE recovery and some assaults. It makes for a longer day, but this was probably the best part of the program. You work with you classmates and instructors in the 700AS to prepare the mission briefing and then you go out and make it happen. You learn so much out there everyday and it is rewarding to see the crew coordination come together to get the job done.
---
Check Rides
There are two checkrides at the flight line for the tactical phase. After your last flight you will have another Form 8 EPE. This is a ground evaluation for two hours that is very comprehensive. They will focus on Low level / tactical formation GK however anything is fair game. You will want to keep sharp on your limitations, Eps, and systems knowledge since it is easy to forget that stuff when you are focusing on the tactical GK. Then your final Form 8 checkride will be in the airplane. You will fly a SKE route and a Vis route with recoveries. It will be just like the previous 5-6 training flights so once again no surprises.
---
Local Infomation
Atlanta is great whether you're single or bringing a family. You'll have plenty of days off to visit every part of Atlanta and Georgia. There are several federal parks if you enjoy hiking and the outdoors and many other endless indoor activities. The night life is great! Atlanta is a very trendy spot with tons of young people
On a final note, a big question is where to live for the four months in Atlanta. They have billeting on base but there is not much availability. Upon arrival to Dobbins you can expect them to give you a Contract Quarters slip for the Residence inn. NOTE: Dobbins will NOT give you a non-availability slip – only contract quarters. Some students had to pay for their whole stay because their finance office did not approve of the corporate apartments. You may want to just stay at the Residence Inn and it will make everyone's life easier including yours. This is a nice place.
I highly highly urge staying at the residence inn. This is the best deal by far. They just finished remodeling and they all have new beds and furniture. You will have a free hot breakfast every morning and dinner and free beer 4 nights a week. You also have a full kitchen if you want to cook yourself. The staff is super friendly and will cater to your every need. They upgraded me to a penthouse room for the same rate. It's so nice having a maid clean your room daily and having a nice bed to sleep on at night. The residence inn also has a membership with Main Event Fitness, a very nice wealth and fitness center with classes and many other amenities. Dobbins does not have a mess hall, so you will get full per-diem for Atlanta.
If your finance office approves Corporate lodging then you can contact TP corporate Housing (678) 442-9700 they have several different locations with apartment style furnishings.
You will pay approx $150-200 per month out of pocket but most found it to be worth it. Be mindful that with corporate lodging, you will have to sign a lease and put a deposit down. Some students in my class had trouble getting out of there lease early and our Flight Commander had to get involved.
Dobbins in co-located with Atlanta NAS. Therefore, you will have the services that any big base would have. The Navy gym has everything you need but is pretty small. If you have a Ballys membership there is one located two miles South on Highway 41. There is a chow hall but most people opted to eat off base since there are several restaurants and grocery stores nearby.
Overall the four months goes by pretty fast. The curriculum is faster than the Little Rock program because of the structure, but you do have downtime to enjoy the area. The North Georgia Mountains are right there, Lake Allatoona and Lake Lanier are close by which offer water sports and activities for a majority of the year. In addition, Braves games are a great time and you can catch a Falcons, Hawks, or Thrashers game other times of the year. If you are looking for nightlife, well you don't have to look too far. Enjoy the training and take advantage of the location while you are there.
(Update 6Sep07) Just a note to add to the off-base lodging:
One of our 5-month MPD classmates had their wallet pilfered from in their room. That caused 5 of our class to move to another location — the Homewood Suites. Why would we move all of our stuff after living in another hotel for a month? Nicer staff and better everything. The security is higher since you have to get through two card-key doors to get into your room, DVD players, 32-inch flat panels, the free breakfast is more varied, higher quality, and is not such a cattle call. The M-Th dinner is a real dinner as opposed to 'Nacho Cheese and Cheese Night' or 'Tuna Salad and Crackers Night' (those are not jokes) and, although other places might provide free beer, drinking skunked Milwaukee's Best gets old pretty quick. The Homewood is not located between a public storage, gas station, and car dealership. Homewood is in a business park (i.e. quiet and secure), it's across the street from about 9 restaurants, one block from the mall, and one block from a fantastic gym that is free to Homewood quests. The room is the same rate as other military lodging in the area, so don't let anyone tell you you're not allowed to live there. Otherwise, why would billeting put active duty, guard, and reserve there in addition to the other contract locations?
'If you are on a long TDY to Dobbins and you need to take a flight out of Atlanta-Hartsfield, here is some gouge to make your life easier: Free\secure long-term parking is available at Ft. McPhereson. If you pull into the main gate, the guards will tell you where long-term (TDY) parking is located. Basically, it's about a block from the gate. You can then walk (about 5 minutes) to the MARTA station which is directly across the street from the gate. For about 75 cents, you take the train for two stops into the airport terminal. When returning, you may be concerned about walking from the MARTA station to the base gate at night, but our group did it many times and had no problems. This is a very good way to save lots of money on long-term parking (3-day weekends, etc) while at the schoolhouse.
For C-130 Study Guides, Checklist Inserts, and more, checkout the C-130 Downloads Section. For additional information on billeting and local hotels, check out our Georgia TDY Gouge.
Please view the Official Dobbins ARB FTU Reporting Instructions 2007.
Check out the Dobbins ARB Base Map.
Thanks to Erik Wichman, Amy Schwalber, John Karlesky, John Bradley
Updated 24March2007