---
Air Force Pilot Training Topics
---
Life as an Officer in Undergraduate Pilot Training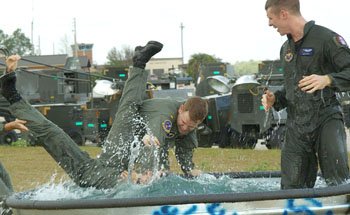 You will be in training with fellow officers from across the nation, Academy, ROTC, OTS, and AMS graduates. Air Force UPT trains all active duty as well as Air National Guard and Air Force Reserve pilots. In addition, student pilots from dozens of allied countries from around the world attend UPT and you can expect foreign national officers in your class. Several UPT bases offer the JSUPT experience, that is Joint Specialized Undergraduate Pilot Training – this means USAF and USN students and instructors. Joint training is becoming more prevalent in today's military. You will learn a lot about your sister-services and military traditions – in addition to your military flight training.
As a class, you will learn early that you need to work together to graduate. Your class will get to design and create its own class patch that you will wear proudly on your flight suit during pilot training. Camaraderie starts here. You will make close friends with your pilot training classmates and many of them you will fly much of your Air Force career with. Pilot training is full of tradition. One tradition is the solo dunk tank – this water-filled dunk tank is decorated by your class and used to douse your classmates immediately following their first solo flight.
There will be ample opportunity to live on base during pilot training. As a married student you may be able to live in family housing on base (space-limited) or live off base. As a single student there will be room in the on-base student dorms for you to live. Certain pilot training bases have rules that force the single students to live on base. Family houses are typically duplexes with yards and car ports. Student dorms are furnished and include private bathrooms and kitchens. If life on a military base is new to you, let me give you a brief introduction.
Although UPT bases are smaller than regular operational bases, you will find everything you need including: a commissary to buy all your groceries; a Base Exchange (BX) for various clothing, furniture and electronics; a fully-stocked gym and fitness center; gas station and convenience store; golf course; and typically other recreational opportunities. Your time is primarily devoted to flying, studying, and preparing for your flights. However, you will have time to use the facilities on base and enjoy your time off in the local area. Weekends and federal holidays are usually off – however, at times when flights were behind schedule, students have flown on the weekends. Weeknights at home are usually spent studying for the next day's flight or simulator, memorizing regulations and publications, preparing flight plans and other mission planning, and chair-flying maneuvers and profiles.

Typically, students are not allowed to take leave during pilot training, so don't plan any extra time off, vacations, or events during your year of pilot training. You will need to be focused and devoted to the program. For the students with families, this can be a tough year, although they will accompany you to UPT, your time will be filled flying and preparing for your flights. At the end it is all worth it as your friends and family watch your graduation ceremony as you are presented your Air Force pilot wings.
Just prior to your UPT class graduation is the festive Assignment Night (also called "Drop Night"). This is a formal, and usually raucous, event held in your base auditorium with many friends and family in attendance. This is the night where UPT students will receive their assignment – their future aircraft and location. Awards are given, UPT class videos are shown, and students celebrate with a huge party afterwards.
---
---
Vance 09-13 Assignment Night Video

---
Sheppard AFB | Vance AFB | Columbus AFB | Laughlin AFB | Moody AFB