---
USAF Euro-NATO Joint Jet Pilot Training (ENJJPT) Pipeline
Phase 1 – Academic Classes and Pre-Flight Training
Aerospace Physiology, Altitude Chamber Rides + Test
Ejection Seat / Egress Training, Parachute Landing Falls
Aircraft Systems Class + Test
Phase 2- Primary Aircraft Training (T-6)
Approximately 125 hours of flight training instruction, 26 weeks of training
Purpose: teach students basic flying skills
Focus: Contact, Instruments, Low Level (Navigation) Formation (2-ship)
Basic & Advanced Instruments Class + Test
Mission Planning / Navigation Class + Test
Aviation Weather Class + Test
Track Select for ENJJPT 2008
USAF Students do not track select – all USAF students go to T-38s!
Active duty USAF students go to initial centrifuge training in between phases.
Track-retrack is in effect for USAF students – this sends some students to another track (heavy/tanker/helo/turboprop) after Phase II
Students from some NATO nations (non-US) will track select (e.g. Norway)
Some international students will depart ENJJPT and continue on a heavy track elsewhere
Phase 3 – Advanced Aircraft Training (T-38)
T-38 Talon – Fighter / Bomber Track
Approximately 135 hours of flight instruction, 26 weeks of training
Purpose: prepare graduates for fighter / bomber assignments
Focus: Contact, Instruments/Navigation, Formation-Basic and Advanced (2/4 ship), Low-level (1 & 2 ship)
Graduates will pick follow on aircraft based on merit and instructor recommendation
Assignment Selection System Process – How do you pick your aircraft?
At completion of Phase-3 advanced training, students are rank ordered based on merit
Flying, academic, and military performance scores
Numbers for each Major Weapon System (MWS) are determined by USAF needs
Senior National Representative approves assignment.
Graduates progress to follow-on FTU/RTU specific MWS training
Students also attend Land Survival, Water Survival, and any other schools required at this time
ENJJPT is located at Sheppard AFB, Texas. The entire course lasts about 55 weeks. Students learn with, and are taught by, U.S. Air Force officers and officers from various air forces of our European allies. Student pilots first fly the T-6 mastering contact, instrument, low-level and formation flying. Next, they strap on the supersonic T-38 and continue building the skills necessary to become a fighter pilot.
---
Graduation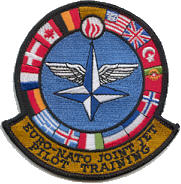 The ENJJPT program lasts approximately 55 weeks. After successfully completing ENJJPT, all officers, regardless of nationality, receive their silver U.S. wings and those of their own country and are awarded the aeronautical rating of pilot. They attend follow-on training in their assigned aircraft at various bases around the country.
Nineteenth Air Force also provides follow-on training for most Air Force pilots in their assigned aircraft. Pilots assigned to fighter aircraft complete the introduction to fighter fundamentals course at Sheppard AFB, Texas flying the AT-38B or Moody AFB, Ga., flying the T-38C, and then move on to train in either the F-15C Eagle at Tyndall AFB, Fla., the F-15E Strike Eagle at Seymour-Johnson AFB, NC., the F-16 Fighting Falcon at Luke AFB, Ariz., the A-10 Thunderbolt II at Davis-Monthan AFB, AZ., the B-52 Stratofortress at Barksdale AFB, LA., or the B-1B Lancer at Dyess AFB, TX. You can also get assigned to become a First Assignment Instructor Pilot in either the T-37 or the T-38. ENJJPT is different from the other UPT bases in that their FAIPS will only be assigned to ENJJPT, and they go through their Pilot Instructor Training (PIT) at ENJJPT.
As of 2008, some ENJJPT pilots are also receiving transport aircraft out of their drop. Additionally, some pilots are also dropping to the U-28 (Pilatus PC-12) AFSOC aircraft right out of Sheppard.