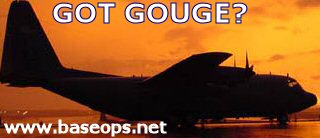 The following is a public accumulation of C130 Briefing Guides, Study Guides, Ops Limits and various errata.
ATTENTION: These are Unofficial documents
. None of this information is a substitute for official publications, regulations or USAF Tech Orders. Feel free to view each file or download them all; print and use. Many of these documents are solely specific to a particular C-130 model, e.g. C-130E, H3, etc. If you have any gouge of your own please
email
me and I will add it to the collection. Please submit your names with your gouge so that all crew dogs know who to thank.
[C-130 Pilot Gouge] [C-130 Navigator Gouge] [C-130 Engineer Gouge]
---
C-130 NIQ Gouge (Little Rock AFB)
Nav Inflight Guide download (6Mb Word)
Pre-Flight Power-Off & Power-On checklists, Departure/Arrival, inflight CAT I log procedures, ARA, and EPs. Thanks to Francisco Guzman (25Jan09)
Fuels/ETP Spreadsheet download (64Kb Exel)
Calculate fuels/Equal Time Point. Thanks to Francisco Guzman (25Jan09)
Fuel Planning Guide download (1 Mb Word)
One page guide to fuel planning procedures and rules/regulations. Thanks to Francisco Guzman (25Jan09)
Guide to AFI 11-2C-130V3 Chapter 11 download (28K Word)
Condensed, User-friendly guide to Chapter 11 of AFI11-2C-130V3. Thanks to Francisco Guzman (25Jan09)
---
Nav Gouge
C-130H Fuel Planner download (1Mb Excel)
H-model fuel planning sheet with data from the -1 to do fuel planning, multi-leg, and enroute fuels. Thanks to Dan Riley (17Aug09)
Black Jack + All American DZ Sight Angle Mosaic (LRF) download (1M PDF) This file contains a collection of simple DZ Mosaics and Sight-angle Mosaics for both Blackjack and All American DZs.. Thanks to Terry Hollingsworth (12Jan09)
All American DZ Mozaics (LRF) download (1.2M PDF)
Little Rock AFB's All American DZ Mosaics, In Adobe PDF format. Circa 2005 imagery (and isn't a dark page, copied several times over). Thanks to John Wrazin (21Oct06)
Littlerock AFB Monthly CHUM official website (AF Portal page)
This site allows the user to check for CHUM updates from any computer with internet access (provided the user can access the AF Portal). Here are several PowerPoint presentations that are updated monthly for Littlerock AFB standard routes. I use FalconView, so it's not only very accurate, it's MAJCOM approved. Thanks to Terry Hollingsworth (15Jan08)
Fuel Log Calc v2 download (110K Excel)
Excel Worksheet that will do the required Fuel and ETP calculations with minimal input from the user. This is the actual form that Navs will use for their flight. Thanks to Wes Robinson (24Oct06)
C-130 Nav Tools v3 download (46K Excel)
Compilation of Pressure / TAS / ETP / ARA / Fuels / ETA spreads sheets. Compute lead points, compute self contained – Airborne Radar Approaches, and more. Fully customizable and automated. Thanks to Peter Petritsch (new version 21May06)
DZ Entry / Exit Calculator v2.1 download (5.1M zip)
Excel spreadsheet that acts like a calculator for DZ Entry/Exit. Version 2.1 update fixes temp dev error. Thanks to Terry Hollingsworth (26Oct06)
Navigator Plastic Brains (v2.5) download (744K Word)
Comprehensive checklist sized study guides for navigators. Gouge, briefing guides, notes, forms, etc. Thanks to John Wrazin (18Nov05)
SCNS Gouge download (48K Word)
SCNS notes & limits. Thanks to John Wrazin (18Nov05)
Echelon Turn Gouge download (63K Word)
Echelon Turn notes. Thanks to John Wrazin (18Nov05)
HALO Gouge download (62K Word)
HALO Airdrop worksheet. Thanks to John Wrazin (18Nov05)
HC/MC-130P Plastic Brains download (477K zip)
Comprehensive checklist sized study guides for pilots and navigators. General, overwater, low level, tactical, objective area planning; search and rescue procedures, systems, emergency equipment, EPs and more. Good stuff for other C-130 models, too. Thanks to Bob Buerkle (12Dec04)
DZ Wizard v1.8 download (423K zip)
MS Access program that calculates Min DZ Size and when given a Drop Zone's dimensions, will calculate the max altitudes that may be flown for various types of drops. Current version is for C-130 aircraft. AFSOC and similar aircraft may use Day Single-ship unless local publications supplement AFI13-217. Thanks to Terry Hollingsworth (updated 3Jun07)