Full-Length ASVAB Practice Tests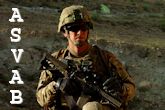 The Ultimate ASVAB Practice Pack provides you three full-length ASVAB practice tests with answer key and unlimited access to the ASVAB Online Practice Center. Modeled After the CAT-ASVAB with over 2000 questions in the question pool – each practice test is different every time you take it. Receive not only access to the practice tests but also: the Ultimate ASVAB Guidebook with Guaranteed Study Plan (download), Full Math Knowledge and Arithmetic Reasoning Study Guide (download), and Word Knowledge and Paragraph Comprehension Study Guide (download).
See your AFQT score and Subtest scores at the end of the practice test. Track your scores and history to see how you are improving. 100% Satisfaction Guaranteed. Start practicing now.
There is no better way to prepare for the Armed Forces Vocational Aptitude Battery than to take practice tests. Although there are a slew of free online resources that offer practice tests, most simply provide a small assortment of sample test questions.
Any soldier, airman, marine, or sailor will tell you that the best preparation is to take actual full-length ASVAB tests. The full-length actual tests we provide give you not only an opportunity to test against the actual test questions, but to also experience the time constraints and stress of an actual test (something hard to simulate with just a few online questions). Also, because you receive three complete tests, you can actually track your progress and see your scores improve as you move from one test to the next. There is no better value in practice aids.
---
Online Resources
Army.com – Online practice test (not an official Department of Defense website)
Today's Military – Sample ASVAB test questions
4Tests.com – Sample ASVAB and AFOQT test battery
english-test.net – Sample test questions
---
ASVAB and Your Future
How can I use my ASVAB results to explore careers?
You can use your ASVAB results with Exploring Careers: The ASVAB Workbook. Every student who takes the ASVAB should receive a copy of the Workbook. The Workbook has a series of activities that will enable you to match your interests, abilities and personal preferences to over 200 civilian and military occupations. You can also use your ASVAB results with Military Careers, a career information resource, to determine your chances of qualifying for different military occupations.
Check out our comprehensive ASVAB Career Guide that will show you some of the best military specialties that will help you prepare for a future civilian career.
Should I take the ASVAB if I plan to go to college?
Yes. ASVAB results provide you with information that can help you determine your capacity for advanced academic education. You can also use your ASVAB results, along with other personal information, to identify areas for career exploration.
It's your future. Get the most out of it.
[ ASVAB Test ] [ Prepare for the ASVAB ] [ ASVAB Practice Test ] [ ASVAB Results ] [ Study Guides ]
Want more specific career information?
[ Basic Training ] [ Military Career Advice ] [ Military Pilot ] [ Special Operations ] [ Navy SEALs ]
---
Prepare for the ASVAB – Study Guides

Kaplan ASVAB 2011
The Kaplan guide has everything I needed to prepare myself for the exam. The book was a great help for refreshing my memory in math and English for the test. Timing yourself on the practice tests is also a great way to make sure you are ahead of the game and never worry about time in the actual test. This is one of the best study guides I have ever seen or used but be prepared to spend time doing the work. As I said it will take hours to go through the material and learn what you need. I believed this book had a direct result in scoring an AFQT of 99. Excellent Book!
---

McGraw-Hill's ASVAB
To reach your military career goals, it is necessary for you to score high on the ASVAB–the exam used to qualify and place recruits in all branches of the armed services. Written by a former key member of the ASVAB team at the Department of Defense, McGraw-Hill's ASVAB provides you with insider advice to achieve exam success.
This guide includes four complete sample ASVABs with explanations, as well as tips and strategies for succeeding on the Verbal and Math test sections you must pass to qualify for enlistment.
---

ASVAB Basics
Extra back-to-basics practice that has helped thousands of recruits to qualify for the armed forces. Thousands of military recruits need extra help to pass the ASVAB, or Armed Forces Test and here's where they can find it! ARCO's ASVAB Basics offers intensive practice in reading, vocabulary, and mathematics the subjects covered in the four ASVAB subtests that determine whether a recruit qualifies for enlistment. Now updated, it features: * Full-length ASVAB subtests for practice * Drills to improve basic academic skills * Complete explanatory answers.
---

ASVAB – How to Prepare
My recruiter told me about this book so I ordered it and got it 3 days later from the Military Bookstore. I got this book and it is awesome. The cd works great and every thing I needed and more to help me was in there. I recommend this book to everyone who is thinking of going in the service and wants to get a real job! GET THIS BOOK AND SCORE HIGH!!!!"