he road to become a USAF helicopter pilot begins at Undergraduate Pilot Training (UPT). Here, newly commissioned US Air Force officers complete Phase I (ground school academics and preflight training) and Phase II (flight training in the T-6 Texan II). Then for Phase III, student pilots go on to train in the TH-67 helicopter at Fort Rucker.
Following successful completion of the Fort Rucker helicopter syllabus, US Air Force student pilots earn their silver pilot wings.
With the retirement of the MH-53 Pavelow rescue helicopter, the USAF is slowly weeding out the rotary wing aircraft from its fleet – even while not yet addressing the void in rescue aircraft capabilities. Although a lot of time, money, and blood was invested in developing and fielding the CV-22 tilt-rotor Osprey, it hardly replaces the lift capability of the MH-53. Congress continues to flirt with the development of the CSAR-X next generation combat search and rescue helicopter – but in the meantime, there is a definite gap in capability.
In an interview, Air Force Chief of Staff Gen. Norton Schwartz said that "a successor model" of the HH-60 Pave Hawk helicopter will be the CSAR platform for the foreseeable future. He added, it's "a pretty good airplane; it's not a perfect rescue airplane; but it can operate at altitude; it's a resilient airframe; it's proven." Schwartz said that recapitalizing the HH-60 with "a modern generation descendant" will meet about "80 percent of the CSAR-X requirement. The HH-60 cannot and will not replace the now-retired MH-53.
HH-60 Rescue Helicopter
From the more common Black Hawk to the lesser known Pave Hawk to the fantastically designed Osprey; when it comes to the variety of helicopters to the U.S. has to offer, the sky is the limit. The best part is all of them come with their own unique qualities which make them effective in the field. From serving as a transport for troops to providing ground support for soldiers in combat, there is a wide variety of functions a helicopter can serve.
---
MH-60G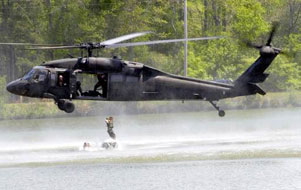 The MH-60G Pave Hawk is one of the military's finest helicopters. This particular model is a twin turboshaft engine helicopter and is utilized by the U.S. Air Force. The MH-60G is essentially a souped up version of the UH-60 Black Hawk. It utilizes the U.S. Air Force's PAVE electronic systems and is a member of the Sikorsky S-70 family.
The MH-60G has a vast number of capabilities. Among them are an automatic flight control system, an onward looking infrared system which can make it easier to see at night during operations being conducted close to the ground, and of course, nigh vision goggles. The MH-60G comes with a probe for refueling which is retractable, fuel tanks, some sort of minigun or .50-caliber gun and a cargo hook which weighs about 8,000 pounds. Combat upgrades for the MH-60G include everything from jamming devices for infrared, radar warning receivers and more.
The primary mission of the MH-60G is the drop-off and pick-up of special operations soldiers. The helicopters core mission however is to be a rescue vehicle for military personnel involved in demanding situations.
---
MH-60M
Perhaps one of the most well known of the military's helicopters, the MH-60M, or Black Hawk, is the newest variant of the original Black Hawk model.
The MH-60M Black Hawk is a special operations variant which was created to support aviation missions by the U.S. Air Force. It features the infamous Rockwell Collins Common Avionics Architecture System (CAAS) glass cockpit. Its engine is the YT706-GE-700 model. The Black Hawk has four blades and is a medium sized utility helicopter.
The role of the MH-60 variant is simple. It is primarily used as to both insert and extract military personnel from hostile environments who are members of special forces teams. They do this no matter what the weather conditions are like. Additionally, these helicopters also resupply other units in the field, assist with evacuations for medical reasons and also serve as a combat unit for search and rescue purposes.
The MH-60 has many capabilities which make it effective. It comes equipped with an AN-ARS-6 system which is used for locating personnel. It comes armed with M1347.62 mm, electronically operated, air cooled guns. It also has a number of rigs which allow military personnel to attach ropes at the cabin allowing for personnel to get out of the helicopter more efficiently.
The MH-60 also has a number of other capabilities which make it effective. It utilizes an advanced GPS navigation system. It's aerial refueling capabilities are second to none as a refueling probe allows for in flight refueling from tankers. Also, it comes with infrared jammers, launchers for chaff and flares and warning receivers for radars.
Training for all USAF helicopter pilots is accomplished at the formal schoolhouse at Fort Rucker, AL.
USAF Special Operations Pararescueman
---
Heart of the Storm – Helicopter Rescue Pilot

During his 30 years in the Air Force and Air National Guard, Fleming made a career of descending from the sky to pluck disaster victims from the jaws of floods, storms, sharks and polar white-outs. His gripping memoir vividly illustrates how tenuous the life of a deus ex machina can be. Fleming recalls the tragic and sometimes gruesome deaths of unlucky colleagues who succumbed to the elements and recounts hair-raising missions that often took place at night, flown through hazardous weather (including the vicious nor'easter Sebastian Junger made famous in The Perfect Storm) in fragile helicopters prone to mechanical breakdown. Avoiding gung-ho special-ops bluster, he probes the human flaws and lapses—incompetent, panicky pilots, abusive officers, penny-pinching bureaucrats who refuse to pay for much-needed equipment—that bedevil even elite outposts of the military. Fleming's sober, straightforward, well-paced style lucidly conveys the lore of helicopter flight and the practical difficulties of rescue missions while letting the heroics speak for themselves. Photos.
Jane's Aircraft Recognition Guide

Jane's has always been a trustworthy name that I have looked to for information on aircraft, especially military aircraft. This book covers it all, from light aircraft to Bombers. Each page has a full color photo of the aircraft, along with a small description, 3 view diagram, variants, features, and the aircraft's specifications. I used this book for the "NIFA" Competition of Aircraft Identification, and it greatly helped me. Definitely good for anyone who wants to know quickly what kind of aircraft they are looking at without much hassle.
Check out the new online ACSC Distance Learning Masters Degree.
---