The Birth of the Special Forces
The term "Special Operations" is nothing new to the American warrior. Long before the Green Berets, there were men stalking the enemy using guerilla tactics in the woods and swamps of America during the French and Indian War. These elite fighting men were known as Rogers' Rangers. During the Civil War, a Colonel John Singleton Mosby of Virginia formed a band of southern raiders that were extremely effective. Mosby and his hand picked volunteers cut off communications and supplies lines, destroyed railroads and raided many posts behind enemy lines. Because these warriors were so cunning and uncanny, Mosby and his cadre came to be known as the "Gray Ghosts."
During WWII, the Devil's Brigade was a joint Canadian-American venture activated in July of 1942, at Fort William Henry Harrison. Darby's Rangers was activated in June of 1942, in Ireland. They fought throughout Western Europe, but achieved their greatest fame when they scaled the cliffs of Pointe du Hoc, during the D-Day invasion of Normandy. Yet, another special operations group was Merrill's Marauders, a 3,000-man force, who fought the Japanese in the Burmese jungles and won 5 major battles and 17 skirmishes, causing heavy casualties to be suffered by Japanese forces.
---
The O.S.S. and the C.I.A.
The Office of Strategic Services (O.S.S.) was the brainchild of William "Wild Bill" Donovan. When World War II erupted in Europe and threatened the security and interests of the United States, this intelligence agency was formed. Then, in 1941, President Roosevelt commissioned Donovan to form the Coordinator of Intelligence, or the C.O.I. In September of 1947, a new name was given to this organization, and the Central Intelligence Agency, or C.I.A., was constituted. It is from the experiences of the C.I.A., and the successful use of guerrilla operations tactics, that the Special Forces Green Berets came to be in June of 1952. However, it wouldn't be until Vietnam before the Green Beret's would prove themselves. It is in this war theater that the Special Forces became the fighting machine of today.
---
Special Forces Mission
Today, the Green Beret's traditional mission is to advise and train foreign military forces to help them internally defend their nation. This Foreign Internal Defense (FID) mission is all-encompassing, including weapons and tactics training, combat medic training, building fortifications, communications, logistics, and leadership.
US Special Operations Command has the mission to train conventional and special operations joint force commanders and their staffs in the employment of Special Operations Forces (SOF) to enhance warfighting readiness and interoperability.
The United States maintains special operations forces capable of performing these difficult, complex, and sensitive missions on short notice, in peace and war, anywhere in the world. In support of the national military strategy, special operations forces are currently organized and trained in nine principal mission areas:
Counter proliferation (CP)
Combating terrorism (CBT)
Foreign internal defense (FID)
Special reconnaissance (SR)
Direct action (DA)
Psychological operations (PSYOP)
Civil affairs (CA)
Unconventional warfare (UW)
Information operations (IO)
---
The Special Forces Assessment and Selection Course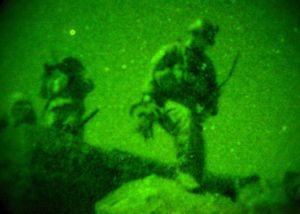 The Special Forces Assessment and Selection Course is the first step to becoming a Green Beret. To be accepted into this course, you must meet the basic physical fitness requirements, thus scoring a minimum of 260 of a possible 300 on the Army physical fitness test. The three-week S.F.A.S. course takes place at Fort Bragg, North Carolina, and consists of two phases. The first phase is the physical phase, and you will be expected to perform "PT" skills such as running; swimming; sit-ups; pull-ups; and push-ups, as well as run obstacle courses and participate in rucksack marches. The second phase of the course measures your competency in leadership and teamwork skills and capabilities.
---
The Q Course
After successfully completing the Special Forces Assessment and Selection Course, you will then be selected by an Army Special Forces instructor to attend the Q Course, or Special Forces Qualification Course (SFQC). Depending on your occupational specialty skill, this course could involve 6 months to as long as a year of training, with medical and communications courses taking even longer.
Special Forces Soldiers in the Army conduct offensive raids, demolitions, intelligence, search and rescue and other missions from air, land or sea. For more information, check out the Special Forces Qualification Course section.
Special Forces Combat Gear
---
The Green Berets in Iraq and Afghanistan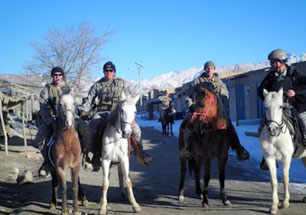 The wars in Iraq and Afghanistan have become an area of heavy use for the Green Berets.
As America's regular armed forces leave the area, the need for special operations will increase, as these special units will help implement and train the inland security forces. These U.S. Special Forces units will also continue to perform small-scale raids, reconnaissance, infiltration, and secretive operations in search of al-Qaeda and terrorist suspects. It is the Green Berets who are responsible for most of the captures and killing of al-Qaeda leaders. These Special Forces units will also work with Iraqi and Afghan tribal leaders to try to undermine the insurgency.
Since the U.S. invaded Afghanistan in 2001, Special Forces have worked closely with the C.I.A. in organizing military campaigns against the Taliban and their supporters. Much of what Special Forces and the C.I.A. do is secret. Special operations teams have, and will remain, in Iraq and Afghanistan, working in unison with Iraqi and Afghan commandos during missions to gain civility and control of these countries.
---
The Green Beret is based in the U.S. and Throughout the World
The Green Beret's are broken down into divisions and stationed in different parts of the United States and the world. In the United States Special Forces groups are stationed at Joint Base Lewis-McChord, Washington; Fort Bragg, North Carolina; Fort Campbell, Kentucky; Elgin Air Force Base, Florida; Fort Carson, Colorado; Draper, Utah, and Birmingham, Alabama. Of those stationed outside of the United States, there is Okinawa, Japan and Stuttgart, Germany, which is a forward deployment of the 10th Special Forces Group located at Fort Carson, Colorado. The 7th Special Forces Group also has one forward deployment company in Puerto Rico.