Corporate Recruiters are looking for these skills:
Self confidence and the maturity to accept responsibility
Demonstrated leadership skills
Ability to take initiative
Creative thinking and the ability to be flexible as well as adaptable
Positive attitude – a "can do" approach to the job
Sense of humor in the workplace can help with day-to-day changes
Ability to balance life and work
---
Help in Your transition from Military Life to the Corporate World
Our selection of articles and books help guide former military personnel in transitioning to civilian job searching. Learn how to create a impressive military cover letters and resumes that showcase the skills and abilities military service has provided. Create the best products – identify common mistakes and outline a seven-step job search process.
For members of all services and ranks, our website offers the separating service member the most up-to-date information on building a marketable and successful Individual Transition Plan. Written by former career military officers, corporate recruiters, and military transition specialists, our informative articles take the reader through the job search process from initial assessment of one's military experience, to the job market, job sources, networking, resume design, use of the Internet, the interview process, and finally salary negotiation and company benefit plans- all the tools necessary for securing a civilian job. Good luck!
---
Start Preparing Now
Military Resumes
Military Resume Tips – Tips on how to write the best resumes
Military Resume Example – Examples of military resumes
Cover Letters – Tips and examples of cover letters for your resume
Military Aviation Resumes – Examples of military aviation resumes
Résumés & Letters of Recommendation – help and advice
Military-to-Civilian Transition Resume Service – Online Service
Military to Civilian Transition
Military Transition – How to best present yourself to civilian companies
Military Transition Reading List – Reading list recommended by top military corporate recruiters
Negotiating a Salary – What salary are you looking for?
Hire Veterans – Find out why Companies are looking for veterans
Federal Government Jobs – Tips and advice on how to find a Federal Job
Prepare for the Interview
Corporate Interview – Overview on how to prepare for your corporate interview
Behavior-Based Interviews – Behavioral interviewing is a relatively new mode of job interviewing
Interview Questions – Prepare for the typical corporate job interview questions
Communications – Get some advice and tips from the pros on how to communicate better
---
Be Proud of Your Military Background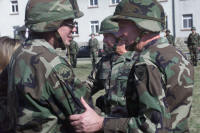 You might have heard you need to develop a functional resume format to mask or downplay your military experience, but the opposite is true. Your military experience is an asset and should be marketed as such. Many employers realize the value of bringing veterans on board. Attributes honed in the military include dedication, leadership, teamwork, positive work ethic and cross-functional skills. If you fear a potential employer won't realize the significance of your military experience, make sure your resume clearly communicates the value you bring to the table.
---

Marketing your Military Experience
Anyone thinking about leaving the service should read this book at least 18 months before separating, whether leaving after one hitch, or a 20+ year retirement. Mr. Henderson has laid out in a clear, logical manner all the things that must be considered before transitioning into the civilian work force. Most military people simply haven't thought about leaving the service until it is upon them. This book is a "primer". It will get you started in the creation of your own personal transition plan, one that meets your needs. Not a "one size fits all" book by any means, you build your own plan. The book lays out a foundation, the details are your personal choice. In fact, the amount of other sources of important information referenced in the book is one of it most valuable strengths.
Some Federal Government Jobs, such as sensitive Department of Defense or FBI jobs require a candidate to pass a polygraph test prior to hiring – check out our strategies and tips on how to pass a polygraph test.
---