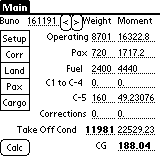 This is a Freeware C-12 (Form F) weight and balance calculator for the UC-12B / M aircraft.
This program will calculate a variety of functions including: landing conditions, weight and more. This application is designed specifically for the U.S. Navy's UC-12B & UC-12M aircraft, with the seating & cargo moments as specified in the NAVAIR C-12 NATOPS manual.
Want to practice flying the C-12 at home? Check out the latest version–Practice flying on your PC.
Download below: