USAF Pararescue: 'That Others May Live'

The United States Air Force has a clandestine group of highly trained combat search and rescue airmen known as Pararescuemen (often referred to as PJs). Their primary mission is to rescue aircrew and other service members who are wounded in hostile environments. While this is their primary mission, current operations require PJs to go far above and beyond their stated objective. They are part of the Air Force Special Operations Command (AFSOC) and their motto, "that others may live," exemplifies the selfless service given by these professionals.
---
Qualifications
Earning the coveted title of Pararescueman is no easy task. Even just earning the ability to try out for Pararescue is difficult. Prospective Pararescuemen must:
Be male.
Achieve a score of at least 43 on the ASVAB.
Have vision correctable to 20/20 (no worse than 20/70 in one eye and 20/100 in the other).
Successfully complete an arduous Physical Abilities and Stamina Test which includes a swim, pull ups, sit ups, pushups, and a run.
After meeting these requirements, a prospective Pararescueman may earn the chance to participate in the marathon of training required to become a qualified PJ.
---
From Recruit to Pararescueman
The first stop in the Pararescue training pipeline is a two-week preparatory course at Lackland AFB, Texas, which ensures that the Pararescue candidates are physically prepared for the journey ahead.
The next stop is the Pararescue Indoctrination Course also located at Lackland AFB, Texas. This course further prepares the prospective PJs for their future endeavors, primarily through rigorous physical training. During this phase, training includes Pararescue history, basic first aid, and weapons training,
Upon successful completion of the indoctrination course, Pararescue trainees proceed to Fort Benning, Georgia, for two weeks of static line jump training at the Basic Airborne Course. It is then on to Panama City, Florida, for the six-week combat diver course which teaches the use of SCUBA and closed-circuit diving equipment for tactical environments. The next stop is a one-day Underwater Egress Training Course in Pensacola, Florida, that teaches the PJ trainees how to escape from a submerged aircraft, should they ever find themselves in that unfortunate situation. After this brief stop, the trainees advance to Fairchild AFB, Washington, for Basic Survival School. This is where important skills for survival in remote environments are acquired.
The five weeks of Military Freefall Parachutist School are split between Fort Bragg, North Carolina, and Yuma Proving Grounds, Arizona. This course teaches the trainees through the use of wind tunnels and in-air instruction. The in-air portion of the course teaches the trainees how to control their bodies in air, and how to maneuver using their parachutes.
Although nearing the final stretch, the Pararescue trainees still have many months to go at this point. The remainder of their training includes two courses which take place at Kirtland AFB, New Mexico.
First, trainees attend a 22-week paramedic course. Having advanced emergency medical skills is crucial for the role in which PJs serve. After graduating the Paramedic Course, the PJ trainees are certified through the national registry as EMT-Paramedics.
The final step that the Pararescue trainees must complete is the 24-week Pararescue Recovery Specialist Course. This is where the future Pararescuemen implement the skills necessary to operate in a dangerous environment. Training during this phase includes weapons tactics, helicopter insertion and extraction, personnel recovery, field medical care, and advanced parachuting. After completion, the airmen are officially Air Force Pararescuemen, prepared for worldwide assignment.
Completion of the Pararescue pipeline is really just the beginning. The new PJs will spend countless months training with their units in preparation for overseas deployment. Various advanced training opportunities may be available to Pararescuemen. The training opportunities available will typically depend on the unit's mission.
---
Current Operations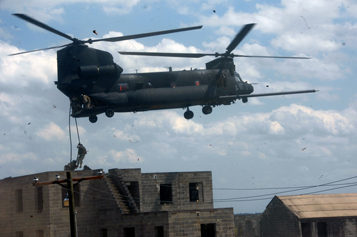 Since their beginning, Pararescuemen have always played an important role, both in humanitarian missions, and in war. Pararescuemen are prepared to operate and save lives in all environments. Their missions may require diving, helicopter insertion, and parachuting. Pararescuemen played an important role in Iraq and continue to provide life-saving services in Afghanistan. The PJs that have died while serving in OIF and OEF bring attention to the very real danger that this group willingly faces.
PJs stay incredibly busy in Afghanistan. They not only rescue injured U.S. service members, but also British and other coalition service members, American contractors, Afghan National Army, and even many Afghan civilians. They have even participated in a mission after an avalanche in which they aided literally hundreds of Afghans, truly operating "that others may live."
---
Air Force Combat Gear
---
Pararescuemen History
The first medical corpsmen were airdropped in 1943 to a downed aircrew in a remote location on the China-Burma border. Pararescemen, known at the time as para-jumpers or PJs, respond to the need for a highly trained rescue force. PJs begin to integrate scuba techniques into their tactics, jumping with more than 170 pounds of equipment.
Pararescuemen prove to be the premier rescue force rescuing downed pilots in wartime, Gemini mission astronauts in the 1960s and San Francisco earthquake victims in 1989. Pararescuemen continue to deploy so "That Others May Live" whenever they are called to help resolve international emergencies and humanitarian relief efforts.
For more information, check out the CCT Association official website. CCT/Online is the online resource for past, present and future members of CCT, and as such serves as the "official" online presence for the Association. This site provides news, information, historical articles and photos on the 50-plus years of proud service by members of Combat Control.